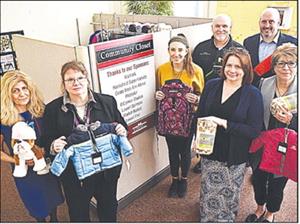 The Family Resource Center now has an emergency closet to help our homeless families. Thank you to our community partners for making this service possible.

STOCKING THE LOWELL SCHOOLS' EMERGENCY CLOSET:
Holding items offered at the Lowell Public Schools Family Resource Center's new emergency closet for homeless students are, from left, Nancy Humphrey (district homeless liaison), Rebecca Duda (Family Resource Center coordinator), and sponsors, Kristin Kinchla (Lowell Spinners), John Hebert (PrideStar), Dodie Dolan (PrideStar), Jonathan Miller (Daly Holding Co.) and Sharon Lagasse (Aramark Food).
SUN/DAVID H. BROW
Registration begins March 1st and ends on April 30th