Return to In-Person Learning News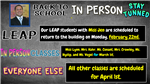 Please make sure that you read Dr. Boyd's to learn more about the district's plan to return to in-person learning.
Our LEAP students with Miss Jen are scheduled to return to the building on Monday, February 22nd. We are also aiming for the return of our in-person students with Miss Lynn, Mrs. Kohr, Ms. Conant, Mrs. Crowley, Ms. Hyslip, and Ms. Vogel for March 1st.
Thank you for your continued support!