Return to Headlines
Local Family Makes desks for Stoklosa students
Local family makes desks for Lowell students in need, 10 desks donated to Stoklosa Middle School students.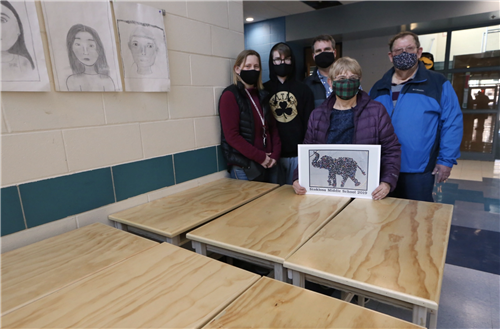 From left, Kristi Caruso, her son Alex, 16, and husband D.J. Caruso of Groton, and Kristi's parents Susan and Vern Malen of Hudson, N.H., with the ten desks that they made and donated for Stoklosa Elementary School students learning at home, and a picture they were given by Stoklosa assistant principal Patrick Swett.
By ALANA MELANSON | Lowell Sun
LOWELL — When Vern Malen saw a news segment about people doing good things during the pandemic, he got an idea.
The retired Hudson, N.H., resident decided he wanted to build desks for students who need them at home during remote learning — and he got his whole family in on the effort.
"I've been doing woodwork all my life," Malen said. "I was in the home-building business for 46 years, so I had all the equipment in our basement, where I do my woodworking."
The pandemic may have interrupted the family's usual large Christmas gathering, but when Malen saw his children on separate occasions around the holiday, he threw out the idea. Son Rich Malen, of Tyngsboro, and daughter Kristi Caruso, of Groton, and their families were on board.
He said his son-in-law, D.J. Caruso, called upon a contact at a lumber yard to get all the materials together to build 10 desks.
"Then I thought, gee whiz, how are we going to be able to disperse them?" Malen said. "We wanted them to go to families that really needed something for the kids to have their own space to work with. We knew a lot of families were suffering as a result of the pandemic."
His daughter-in-law, Annie Malen, of Tyngsboro, knew a teacher in Lowell and reached out. Working with other teachers and social workers, it didn't take long to find 10 students at Stoklosa Middle School who could use the desks.
Stoklosa special education teacher Lisa Moore said she was excited when she first heard about the family's plan to donate the desks to students at her school.
"Having the opportunity to offer desks to help improve the at-home learning environments for these students during this period of extended remote learning is hugely beneficial to these students," she said.
Vern Malen built a prototype desk and assembly jigs, and he and his wife, Susan Malen, precut all the parts. Then, their four grandchildren joined them in assembling and finishing the desks.
Thomas Malen, 19, Derek Caruso, 18, and Alex Caruso, 16, were put to work with drills, screwdrivers and glue. Sydney Malen, 20, and her grandmother sanded and put coats of finish on the desks. On the supports, she wrote the initials of all the family members who built them.
Vern Malen said he thought it was especially important to get his grandchildren involved so that they could appreciate their abilities and what they can do to help others.
"We wanted to just bring everybody together and put our talents as a family to good use," he said.
Annie Malen provided chairs to go along with each desk, and Susan Malen put together packages with little white boards, markers, pencils and notebooks to be delivered to the students.
The family fully funded the project themselves, except for $100 donated by a neighbor who wanted to help, Vern Malen said. Everyone who was available to participate in the delivery dropped the desks off at the Stoklosa school Feb. 25.
Moore said the desks exceeded her expectations.
"They are very well-crafted, high-quality, durable pieces that will easily provide long-lasting learning spaces for the recipient students," she said. "We at the Stoklosa are extremely thankful to the Malen family for their kindness and generosity."
"We certainly hope (the students) appreciate them, and realize that even though they may not have the resources that a lot of their other friends and students do, that they can still be successful and can always find a path to better themselves," Vern Malen said.